His Excellency, Governor Biodun Oyebanji on a work visit to Ikogosi Warm Spring Resort in December 2022.  
Pictured L-R: Col. Charlton Jose, Director of Security, Glocient Hospitalities, Mr. Dele Odufuye, Executive Director, Glocient Hospitalities, Mr. Olujekun Oludayo, Deputy General Manager, Ikogosi Warm Springs Resort; Governor Biodun Oyebanji, Executive Governor, Ekiti State; Mr Sharafa Balogun, General Manager, Ikogosi Warm Springs Resort; Chief Ayo Ademiluwa, Manager, Community Engagement, Ikogosi Resort, Mr. Dapo Oriola, Community Engagemnent Manager ,Agbeyewa Farms, Engr. Ahmed Adebayo, Supervising Engineer, Glocient Hospitalities.
Lagos, Nigeria, Jan 24, 2022 –– As Executive Governor of Ekiti state, His Excellency Abiodun Oyebanji, celebrates his first 100 days in office, Agebeywa Farms Chairman Niyi John Olajide has applauded the Governor for his relentless support for businesses operating in the state. Beyond leading Agbeyewa Farms, Africa's budding diverse and dynamic agro-allied farm located in Ekiti state, Olajide also oversees Glocient Hospitalities, concessioner for Ikogosi Warm Springs Resort.
"We are immensely grateful for the partnership of the Oyebanji administration, which has contributed significantly to the success that all of our business entities in Ekiti State have achieved," Olajide said while congratulating the Governor for the many successes recorded in his 100 days in office. "We are beneficiaries of the consistent support Governor Oyebanji has given the private sector in the state, in line with his vision of achieving shared prosperity for all stakeholders."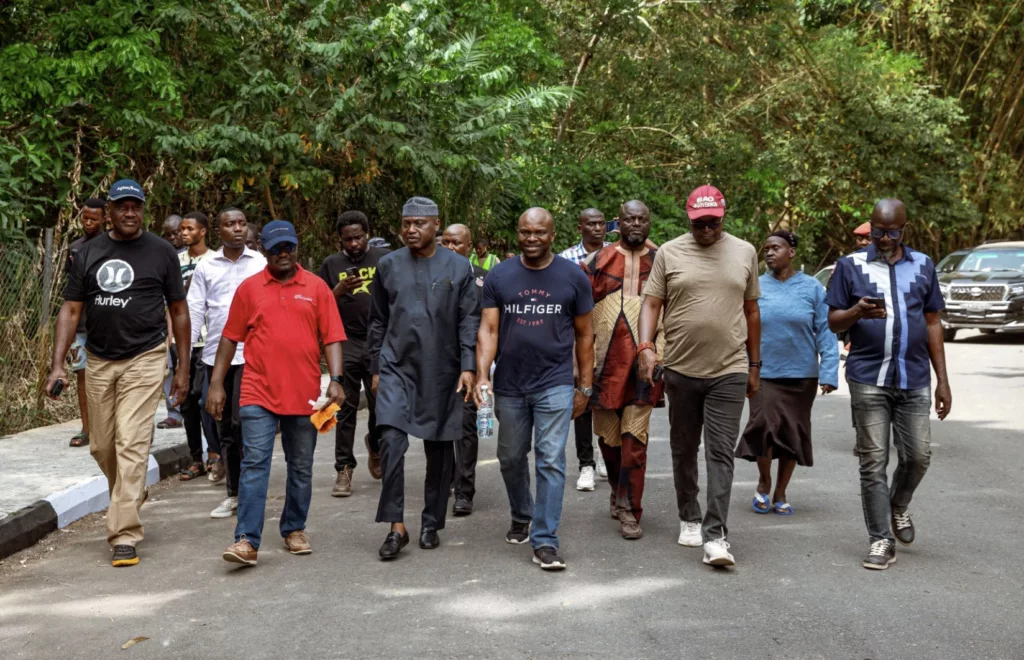 Agbeyewa Farms, one of Olajide's investments in Ekiti state, is set to cultivate 5000 hectares of land in the state which will employ thousands of local workers in Ekiti state. Since November 2022, more than 100 hectares of farmland have been cleared and planted, resulting in the employment of almost 300 workers, most of whom are residents in Ekiti state.
Olajide also thanked the Governor for his intervention in ensuring the restoration of power to Ikogosi Warm Spring Resort after so many years, which is one of the factors that resulted in the successful revamp of the flagship tourism asset in the state.
Ikogosi Warm Springs Resort, which has been operated by Olajide's Glocient Hospitalities since late last year, is fast becoming a tourist destination of choice for visitors within and outside the country due to the extensive world-class resort structure implemented under Glocient's management.
Governor Oyebanji was elected governor of Ekiti state in June 2022 and was sworn in in October with a transition ceremony during which Olajide delivered the keynote address at the inaugural lecture.
Since taking office, Governor Oyebanji has held numerous meetings with private investors in Ekiti state while fostering public-private partnerships across industries. He spent most of his Christmas holidays at the Ikogosi Warm Springs Resort as an active show of support for local tourism in the state. The Governor stated that he will be the number one ambassador for the resort. 
For more information, please visit www.ikogosiresort.com