Ikogosi Warm Springs Resort, under the stewardship of Glocient Hospitality Limited (a subsidiary of Cavista Holdings), has been honored with the award of the Best Holiday Resort in Nigeria. The recognition was conferred upon the resort during the fifth edition of the Hotel Managers Conference (HMC), held on July 14, 2023 in Owerri, Imo State.
Receiving the award on behalf of Glocient Hospitality, the General Manager, Mr. Sharafa Balogun, commended the organizers of the award for their consistency and passion to ensure the growth of the industry.
He dedicated the award to the Chairman, Cavista Holdings, John Olajide, and the entire team at Ikogosi Warm Springs Resort and Glocient Hospitality, adding that this award was a testament to their unwavering commitment to elevate the standards of hospitality in Nigeria. It also reaffirmed their dedication to exceed guest expectations and set new industry benchmarks.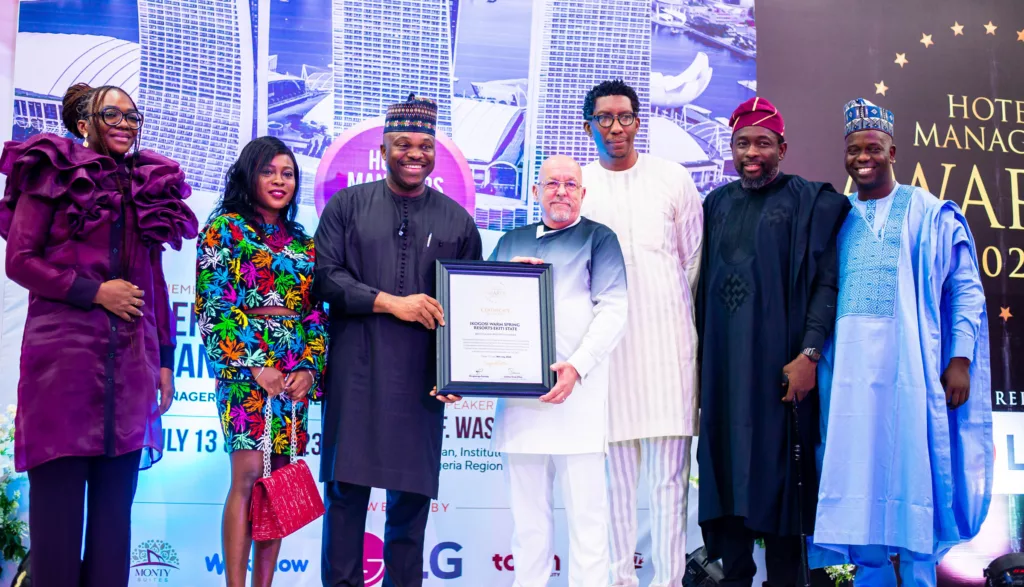 He also shared his thoughts on the future of the Nigerian hospitality sector.
"The Hospitality sector in Nigeria is the most lucrative in the world, and we have not even tapped 30 percent of its potential. What we need to make it more viable is power. We took over Ikogosi Warm Springs Resorts barely six months ago, and before this time, the place was a dead zone, but we have turned it around. It was concessioned to Glocient Hospitality Limited by the Ekiti state government for some years. The award is simply a recognition of what we have already done with Ikogosi Warm Springs Resorts, and we are going to replicate this success globally."
Since its acquisition by Cavista Holdings, Ikogosi Warm Springs Resort has undergone a transformation, becoming a haven of hospitality and leisure, attracting visitors from near and far. The resort's picturesque landscape, top-notch facilities, and exceptional service have combined to create a truly memorable experience for guests.
With this prestigious award in hand, Ikogosi Warm Springs Resort and Glocient Hospitality are poised to continue their journey of excellence, providing world-class experiences to visitors, and showcasing the incredible potential of Nigeria's hospitality industry on a global stage.
For media enquiries, please contact:

Uchenna Ibemere  
ABOUT IKOGOSI WARM SPRINGS RESORT
Ikogosi Warm Springs Resort is a captivating hospitality and tourist destination nestled in the picturesque town of Ikogosi, Ekiti State, southwestern Nigeria. The resort houses the only confluence of warm and cold-water springs in the world, each maintaining its distinct thermal properties as they flow side by side without mixing, making it a truly memorable destination for tourists from Nigeria and abroad.
Established through the vision of Rev. John Sydney McGee, a Southern Baptist missionary, the resort has a rich history dating back to 1952 when it was initially secured as a Youth Camp. Over the years, it evolved into a commercial tourist resort, attracting guests from near and far seeking leisure and tranquility in the lap of nature.
In 2022, the Ikogosi Warm Springs Resort entered a new phase of transformation under the management of Glocient Hospitality Limited, following a 15-year concession awarded by the government. With a passion for excellence, Glocient Hospitality is committed to restoring the resort to its former glory, offering world-class accommodations, top-notch facilities, and unforgettable experiences for all guests.
As the resort embraces this new era of growth, it continues to be a beacon of natural wonder and warm Nigerian hospitality, inviting travelers to discover the enchantment of Ikogosi Warm Springs Resort.
For more information, please visit www.ikogosiresort.com